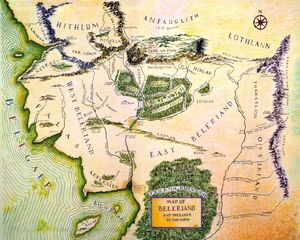 Valariandë (sind. Beleriand) i nórë fornúmeness' Endórëo né. Alta ranta Quento Silmarillion tyallë Valariandessë. Enges tenna metta Minya Randava.
Nóritecië
Edit
Valariandë perina Sirionen Valariandë Númenyann' ar Valariandë Rómenyanna. Númenello rómenna nornorontë ambor estainë Anaramba. Rómenessë Anaramballo, Gelion ar anasireryar carner Ossiriandë.
I formen Valariandë' orontinqua né as Oronti Huinëo ar Oronti Ossëo. Ríma rómenya Valariandëo carinwa Lúnorontinen né.
Valariandë haryanë tauri altë atta: i Lestanórë, or Sirion formenessë Anaramballo, ar i Taurë-Imbi-Sírion hyarmenessë.
Lambi Quendion
Nossi Quendion
Liër Quendion
Nóri
Nassi
Parmar
Ad blocker interference detected!
Wikia is a free-to-use site that makes money from advertising. We have a modified experience for viewers using ad blockers

Wikia is not accessible if you've made further modifications. Remove the custom ad blocker rule(s) and the page will load as expected.