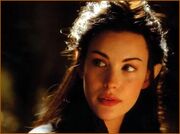 Undómiel
(
sind
.
Arwen
) i
Eldalië
parmassë
Heru i Million
Arcastarenen
ná. Nánë tári
Ondonórë
Arnanórëo
.
Undómiel Elerondiel Perelda nánë. Cilles cuilë fírima ar se 1419 Nelyo Randa veryanë Aracornonna. Apa Aracorno ifírië se 1541 Nelyo Randa rato firnessa Lasselantassë Lóriendessë.
Ad blocker interference detected!
Wikia is a free-to-use site that makes money from advertising. We have a modified experience for viewers using ad blockers

Wikia is not accessible if you've made further modifications. Remove the custom ad blocker rule(s) and the page will load as expected.