I lassë sina nyarë pá i osto Taipeio. Á cenda Taipeio Taranna pá i taranna Taipeio.
Taipei Osto (Yára Tencelë Tyeno: 臺北市 hya "Osto Formenya Taiwassë") aralta ostoron Taiwassë ná ar i yessëa osto Taiwano ná yando. Vë i essë Taipeio, i osto caita formenya mentessë Taiwano.
Taipei i ostomomahtalëa, autëa, haimëa endë Taiwano. I Norya Taiwano Ilyanolmen ar i Norya Túrion Combemen, ya hary' arúvëa úmi Tyeno tamnar ar carmëo tanwi ambaressë, Taipeissë nar. Ara 2009o Lairëo Deaflympics, i Taipeio Ambarya Almaron Ocombë ar i 2011o Ambarya Nó Otorniëo Yomenië láruvar Taipeissë yando.
I osto (Taipei Osto) nótina liëo 2,619,920 már ná. Taipei Osto, Taipeio Taranna, Keelung Ost' uo carir i Taipeio amilosto arda lienen 6,752,826 y' ananta turn' alimyë ardo artatúri. Cé "Taipei" tana ily' amilosto arda, írë "Taipei Osto" tana i osto.
Asari yo lúr
Edit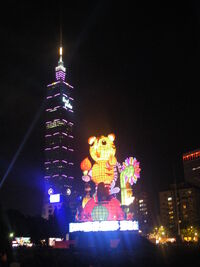 Limbi asari sé ilya loa lárir Taipeissë, yórala i Taipeio Calmaron Asar írë hellecalmar húmion lehtë nar hellenna Pinxissë Taipeissë. Senwë meni merendin yorir Enyálëa Men, Taipei 101, Zhongshano Oromar sé Ximending. Sé Ar Attaquëano, asari lárir opo i Nóriecáno Ataquë.
Hyan' asari sé ilya loa yorir Ar Poitanoirëo, i Angulóceluntëo Asar, i Hó Asar, i Endeyáviëo Asar. Sé hari vanwë loar, asalli haimëa lárner Taipeissë, vë nartanwi ar olirier sé Ar Attaquëano, alárier altëavë hyanë ostossen Taiwassë.
Taipei vë anvaldëa osto ep' ilya la hary' anahoa hy' ampall' arda, mal haryas limbi haimië ceni, vë lúmequentalië menion ar combemenion allimbi ar ilyan Taiwassë ar haryar alimyë lengi ar tyávi ilyë ambaryë ostor.
I lómivehtë Taipeissë lúcëarwa ná etteleain ar harya alimyë lengi ilyë ardassen Taipeissë, vë i haimëa lómancamen mi linyenwa ostar terë Ningxio Tëa, Shilino Lómancamen, Raohëo Mallëo Lómancamen, Tonghuo Lómancamen, Huaxio Mallëo Lendiëo Lómancamen arta yar yorir limbi malli, látacari vi mancalëo arda i Rómenya Ardassë Taipeio, Beitouo laucehtë Yangming Orontessë, yar lómivehteli Taipeissë nar.
Maisinwi Ataqui
Edit
Combemeni
Edit
Lietarwar
Edit
Lómancameni
Edit
Nóritecië
Edit
Vë i essë Taipeio, i osto caita formenya mentessë Taiwano. Taipei caita Danshui Sírë ar har húmeterion 25 hyarnúmessë Keelungello ya Taipeio hópa i Sérë' Alatairenna. Exa falassëa osto, Danshui, har húmeterion 20 fornúmessë i Danshui Sírëo etsiro i Taiwano Londenna.
Artatúrië ardar
Edit
Taipei Osto yorë ardar (區 "qu") 12.
Arda
Lië
Cemna talan
Mentanótë
Hanyu Pinyin
漢字
Wade-Giles
së 2009
hm²

■

Zhongzheng
中正區
Chung-cheng
159,464
7.6071
100

■

Datong
大同區
Ta-t'ung
124,466
5.6815
103

■

Zhongshan
中山區
Chung-shan
218,551
13.6821
104

■

Songshan
松山區
Sung-shan
209,903
9.2878
105

■

Da'an
大安區
Ta-an
313,371
11.3614
106

■

Wanhua
萬華區
Wan-hua
190,050
8.8522
108

■

Xinyi
信義區
Hsin-yi
227,232
11.2077
110

■

Shilin
士林區
Shih-lin
285,459
62.3682
111

■

Beitou
北投區
Pei-t'ou
249,319
56.8216
112

■

Neihu
內湖區
Nei-hu
267,120
31.5787
114

■

Nangang
南港區
Nan-kang
113,462
21.8424
115

■

Wenshan
文山區
Wen-shan
261,523
31.5090
116
Vë ambarya fintemóralëa osto, Taipei himina exë rantannar Taiwano ló angatier, alarcángatië, vilyaciryahópar, lienorolli. Vilyaciryahóp' atta veuya Taipei: Taipei Songshan ar Taiwan Taoyuan.
Á cenë yando
Edit
Erúmië limi
Edit
Ad blocker interference detected!
Wikia is a free-to-use site that makes money from advertising. We have a modified experience for viewers using ad blockers

Wikia is not accessible if you've made further modifications. Remove the custom ad blocker rule(s) and the page will load as expected.