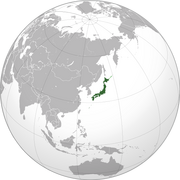 Nippon (yando Nihon) - i nórë Rómenya Ásiassë. Nassa Senda Airondë, rómello Eär Nippono. Caitas tollissen 6,852 (canta tallo - Honshu, Hokkaido, Kyushu ar Shikoku - sámala 97% talamo Nipponwa). Nipponessë marir quenion os mindóri 127.
Lúmequentalë
Edit
Nólúmequentalëa Nippon
Edit
Nippon yestassë lúmequentalëo
Edit
Minyë nipponnor
Edit
Minyë nipponor tuller Nipponessë 40K loar n.H.
Randa Jōmon
Edit
Randa Yayoi
Edit
Ontalë Nippono
Edit
Randa Kofun
Edit
Randa Asuka
Edit
Nippon Enderandassë
Edit
Nippon Sinya Lúmessë
Edit
Nóritecië
Edit
Ad blocker interference detected!
Wikia is a free-to-use site that makes money from advertising. We have a modified experience for viewers using ad blockers

Wikia is not accessible if you've made further modifications. Remove the custom ad blocker rule(s) and the page will load as expected.