Namárië - Altariello nainië Lóriendessë lindë liraina ló Altariel Herussë i Million, I Nilmë Cormallo ná. Nás i ananda Quenya lairë Herussë i Million, ar i attëa ananda Quenya lairë tecina ló Arcastar, i minya Markirya ná.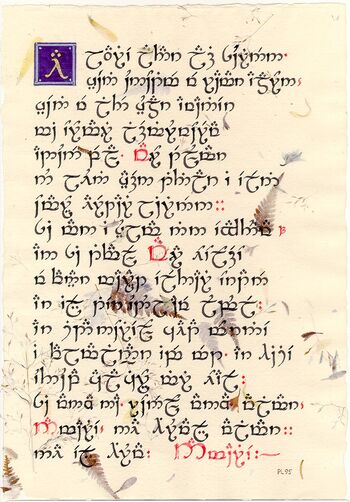 Ai! laurië lantar lassi súrinen,
yéni únótimë ve rámar aldaron!
Yéni ve lintë yuldar avánier
mi oromardi lisse-miruvóreva
Andúnë pella, Vardo tellumar
nu luini yassen tintilar i eleni
ómaryo airetári-lírinen.

Sí man i yulma nin enquantuva?

An sí Tintallë Varda Oiolossëo
ve fanyar máryat Elentári ortanë,
ar ilyë tier undulávë lumbulë;
ar sindanóriello caita mornië
i falmalinnar imbë met, ar hísië
untúpa Calaciryo míri oialë.
Sí vanwa ná, Rómello vanwa, Valimar!

Namárië! Nai hiruvalyë Valimar.
Nai elyë hiruva. Namárië!
Á cenë yando
Edit
Ad blocker interference detected!
Wikia is a free-to-use site that makes money from advertising. We have a modified experience for viewers using ad blockers

Wikia is not accessible if you've made further modifications. Remove the custom ad blocker rule(s) and the page will load as expected.