Markirya (Qenya: Oilima Markirya) i lairë tecina ló Arcastar ná. Nás i ananda Quenya lairë Arcastaro.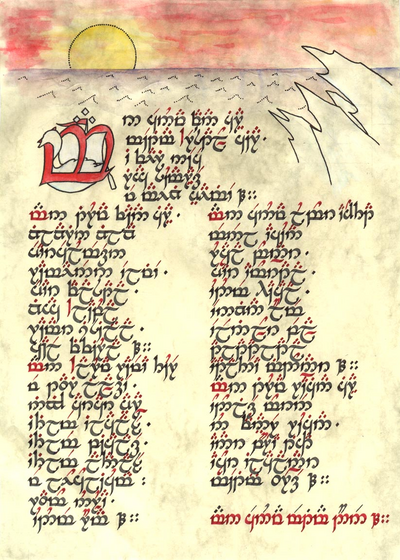 Men cenuva fánë cirya
métima hrestallo círa,
i fairi nécë
ringa súmaryassë
ve maiwi yaimië?

Man tiruva fána cirya,
wilwarin wilwa,
ëar-celumessen
rámainen elvië
ëar falastala,
winga hlápula
rámar sisílala,
cálë fifírula?

Man hlaruva rávëa súrë
ve tauri lillassië,
ninqui carcar yarra
isilmë ilcalassë,
isilmë pícalassë,
isilmë lantalassë
ve loicolícuma;
raumo nurrua,
undumë rúma?

Man cenuva lumbor ahosta
Menel acúna
ruxal' ambonnar,
ëar amortala,
undumë hácala,
enwina lúmë
elenillor pella
talta-taltala
atalantië mindonnar?

Man tiruva rácina cirya
ondolissë mornë
nu fanyarë rúcina,
anar púrëa tihta
axor ilcalannar
métim' auressë?
Man cenuva métim' andúnë?
Á cenë yando
Edit
Ad blocker interference detected!
Wikia is a free-to-use site that makes money from advertising. We have a modified experience for viewers using ad blockers

Wikia is not accessible if you've made further modifications. Remove the custom ad blocker rule(s) and the page will load as expected.