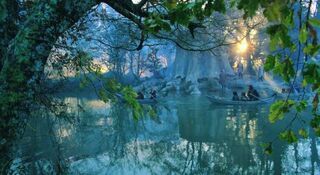 Lóriendë
(yando
Lórien
;
sind
.
Lothlórien
;
andún
.
The Golden Wood
;
rohir
.
Dwimordene
) i vanë taurë arda
Quendion
Endóressë
Nelya Randass
ë nánë.
Lóriendë rómen Moriyáwello ná, imbë Oronti Hísiti ar Sírë Anduinë. Hequa níca ranta taurëo hyarmenessë, i arda imbë i síri Anduinë ar Telperantë nánë, sin nómë Quendi estanë i Nehtë. Mentessë Nehtëo Carassë Ornelieno ná, sin ná i már Altárielwa ar Telpornowa.
Ad blocker interference detected!
Wikia is a free-to-use site that makes money from advertising. We have a modified experience for viewers using ad blockers

Wikia is not accessible if you've made further modifications. Remove the custom ad blocker rule(s) and the page will load as expected.