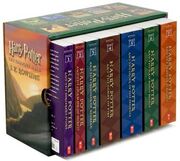 Harry Potter nyarvëa parmar tecina ló JK Rowling ná. Nás i nyarna i coiviëo Harry Potterwa, nessa curuvar. I nyarna tana yéniryar minë ana otso Hogwartsessë, nólecoa curuo ar ingolmëo, yassen mahtas i ulca Herunna Voldemort.
I nyárë harya parmar otso, i minya Harry Potter ar i Ondo Ingolmowa, i attëa Harry Potter ar i Sambë Muilëo, i neldëa Harry Potter ar i Mandomardo Azkabano, i cantëa Harry Potter ar i Yulma Náro, i lempëa Harry Potter ar i Heren i Sornenárowa, i enquëa Harry Potter ar i Perisercë Cundu, ar i otsëa Harry Potter ar i Tammar Fíriëo. Ilyë otso parmar anaië carnë levemmar ló i Warner Bros Otornië.
Ad blocker interference detected!
Wikia is a free-to-use site that makes money from advertising. We have a modified experience for viewers using ad blockers

Wikia is not accessible if you've made further modifications. Remove the custom ad blocker rule(s) and the page will load as expected.