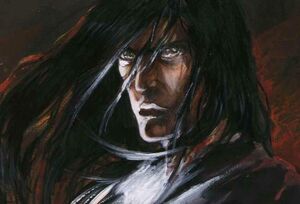 Fëanáro (sind. Faenor, yando Fëanor) i Noldo i carnë i Silmarilli né.
Nossë ar coivië arinya
Edit
Fëanáro nóna Valinóressë né. I yondo Finwëo ar Míriel Serindëo né. Amillerya firnë epë nosta Fëanáro. Finwë veryanë ata ar nostanë exë yondor atta, Nolofinwë ar Arafinwë, ar selyer atta, Findis ar Irimë.
Fëanáro tano anarata imbi Quendili né. Nólemo Mahtano nessë, i nólemo Aulëo né. Yando veryanë selyë Mahtano, Nerdanel. Veryanwentallo tuller yondor otso: Maitimo, Macalaurë, Tyelcormo, Carnistir, Curufinwë, Ambarussa ar Umbarto.
Coivië arinyassë, Fëanáro autanë i Tengwar ar carnë i Palantíri. Er carda anaratarya i Silmarilli ner.
I Silmarilli
Edit
Aicalessë túreryo, Fëanáro hostanë i cala Alduo ar carnë i Silmarilli, i Míri Aratariva. I Silmarilli "amba lá ondor rilyar; né cuinë, ilfirini ar airi" ner. Alaquen istanë manen carneryet. Valar lá poller encaritat, mal Fëanáro yando lá pollë, pan ranta fëaryo elevië tenna. Valderya úteluvëa né, sië Varda "amanië te, sië ilya hroa firimavëa, ilyë mát úpoicë, hya ilya nat ulcullo i pollë appatat, ustanë ar hestanë."
Fëanáro mellë i Silmarilli ambë illëo ar quernë rúcala sa Valar polir meritat. Melcor, i marnë Valinóressë lussë sina, tás cennë i martë erden cotiëo imbi Noldor. Equetië Fëanáronna i pertahánorya Nolofinwë pananë netë indo Fëanárova sívë i aryon Finwëo.
Lenda Endórenna
Edit
Írë Melcor (ló Fëanáro estaina Moringotto) rancë as Ungoliant i Aldu Valinóreva, Fëanáro tultanë ilyë Noldor ar te quentë, quétala sa Noldor autuvar Valinórello ar entuluvar Endórenna, pan Valar umir polë tirë nórenta, ar Noldor lennuvar apa Moringotto tenna emmapuvantë i Silmarilli. Nés yando estaina i "Vanda Fëanárova".
Noldor lender rómenna Valinórëo, Alqualondenna, yassë marner Teleri, i ammárë ciryasamnor ner, ar Fëanáro te quentë yuhtien ciryantar, mal Olwë úmë merë te manya. Tá Noldor nahtaner ilyë Teleri ar mapaner ciryantar. Nés i "Nossenahtalë Alqualondessë". Epë, Noldor as Fëanáro tuller Valariandessë yassë marner Sindar.
Ad blocker interference detected!
Wikia is a free-to-use site that makes money from advertising. We have a modified experience for viewers using ad blockers

Wikia is not accessible if you've made further modifications. Remove the custom ad blocker rule(s) and the page will load as expected.