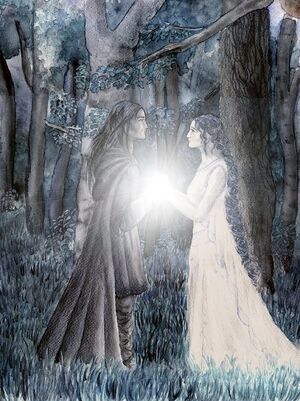 Elwë Sindicollo (sind. Elu Thingol) i heru Telerion, i heru Sindaron, i aran Lestanórëo ar i ingaran Valariandëo né. Anes i atar Lótieno.
Coivië arinya
Edit
Elwë i Minnóna né, ocoivië Cuiviénenessë. Tulyanë lierya, i Teleri, Valinórenna. Nán i Teleri meller i Endórë ar úmë tanca avëo nér. Sië nér tellë imbë Eldar ar marner Endóressë coranar limbessë.
Lúmissen, tauressë Nendëo Elenwëa, Elwë anomentië Melyannanna ar emélies. Tarnet nutainë an 200 coranar. Limbi Telerion sácer sé ar lá oanter ú se.
Írë Elwë enucuivië, Valariandë mara Telerion limbin ar anúviet marë tassë. Sinë Teleri estainë i Sindar nér. Elwë ar Melyanna quernë i aran ar i tári Sindaron Lestanóressë. Anostiet minna selya, Lótien.
Aran Lestanórëo
Edit
Yestassë i Ohto Mírion Elwë mahtanë Palpië Valariandëo Minyassë ar utúrië hossi Morcotwa tulala. Nan apa sina palpië Elwë ahánië ya únë polë tarë Morcotanna palpië palyassë lumë andassë. Sië Melyanna varyanë rímar aranio Elweva Lesta sairinenen (sinallo utúlië i essë Lestanórë).
Tenessë Noldoron Endórenna, Elwë avaequetië tulë Lestanórenna ilquenen nán i nossë Arafinwëo pan i veri Arafinwëo, Eärwen, né selyë Olwëo. I Noldor lá equetië Nossenahtieno Alqualondëo. Nan Círdan ahlárië sino ar anyarië Elwenna. Elwë né rúsëa nahtieno tyeryon Telerinion.
Ambë telwë, Angaráto, yondo Arafinwëo, anyarië Elwenna i cámo Fëanáro Nossenahtien Alqualondëo, i tarno ter Helcaraxë ar i nwalmo tassë. Elwë avatyarië nossellon Nolofinwëo ar Arafinwëo, nan avaequétië quetë Quenya Valariandë ilyassë.
Lótien ar Beren
Edit
Ad blocker interference detected!
Wikia is a free-to-use site that makes money from advertising. We have a modified experience for viewers using ad blockers

Wikia is not accessible if you've made further modifications. Remove the custom ad blocker rule(s) and the page will load as expected.