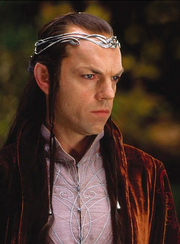 Elerondo Perelda
(
sind
.
Elrond
) i heru
Imbilatariss
ëo né. Imbë antulcë ar anvaldië Eldar
Neldëo Randa
né. Colnë i millë
Vilya
, minna imbë i
Neldë Milli
Eldaron
. Sellerya
Undómiel
i Eldalië anvanya
Neldëa Randass
ë né.
Nostari ar nossë
Edit
Minya ar Attëa Randa
Edit
Neldëa Randa
Edit
Ad blocker interference detected!
Wikia is a free-to-use site that makes money from advertising. We have a modified experience for viewers using ad blockers

Wikia is not accessible if you've made further modifications. Remove the custom ad blocker rule(s) and the page will load as expected.