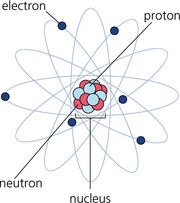 I atomë sundocarmë ermaron ná. Haryas endë mí mitië, pellë ló fanyaro celumi. I atomëa endë harya porotoni ar neutoroni (hequan nendontil-1, yassë tás ui neutoron ná). I celumi atomëo nutina nár ana i endë ló i elecetomacnetëa veccië. Imya, ambë atomi pol nutinar ná uo, sina onta moleculë.
Lúmequentalë i essëo
Edit
I essë atomë tulë quettallo Hellenórëa 'átomos', úristima hela úperima, nata ya upol na entë perina. I intyallo atomë ve uperima sundocarmë ermaron minya quetina nér ló arinya Indian ar Hellenórëa ingolmor.
Ad blocker interference detected!
Wikia is a free-to-use site that makes money from advertising. We have a modified experience for viewers using ad blockers

Wikia is not accessible if you've made further modifications. Remove the custom ad blocker rule(s) and the page will load as expected.