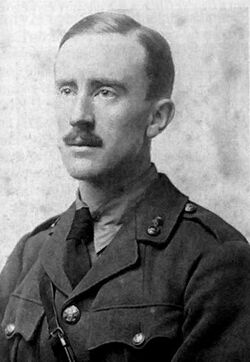 Arcastar[1] (inwinórin John Ronald Reuel Tolkien; 3 Narvinyë 1892 – 2 Yavannië 1973), Inwinórëo tecindo, lairemo, lambengolmo ar tarsaitar né, anistaina ve i tecindo i parmaron I Perian, Heru i Million ar I Quenta Silmarillion.
Arcastar tarsaitar Angelsaxino Mondósaressë[1] né va 1925 an 1945, ar tarsaitar Inwinórëo lambë ar teciëo va 1945 an 1959. Arcastar ar C. S. Lewis hari meldor nér, ar te ar exë queni lender yomeniennar mi The Inklings queten teciëo.
Apa firië Arcastaro, yondorya Christopher etantanë Silmarillion ar exë tencar ataryo. Parmar sinar, as I Perian ar Heru i Million, carë úmë nyári, lairi, carnë lúmequentar, carnë lambi ar cento ambaro estaina Arda, ar Endóro mi sa. Va 1951 an 1955 Arcastar tulcanë i quetta legendarium úmë sina tencain.
Ad blocker interference detected!
Wikia is a free-to-use site that makes money from advertising. We have a modified experience for viewers using ad blockers

Wikia is not accessible if you've made further modifications. Remove the custom ad blocker rule(s) and the page will load as expected.