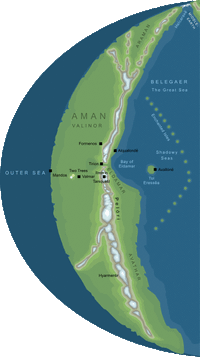 Aman nor nyaraina Arcastarenen ná. Aman i mar Valaron ná, nan yando i nossi neldëon Eldaron: Vanyar, Noldor ar Teleri.
Noretecië
Edit
Aman caita númenanna Endórëo. Imbi Aman ar Endórë i Alatairë ná. Apa i metta Randa Attëo, Aman úmë ardassë imya ve Endórë ar exa Arda.
Aman taina formenallo hyarmenanna ná, yó minna hoa limil orontion, i Pelori. I nóri Amanessë Valinórë, Avasar ar Araman nár.
Lassë sundovëa: Valinórë
Ad blocker interference detected!
Wikia is a free-to-use site that makes money from advertising. We have a modified experience for viewers using ad blockers

Wikia is not accessible if you've made further modifications. Remove the custom ad blocker rule(s) and the page will load as expected.