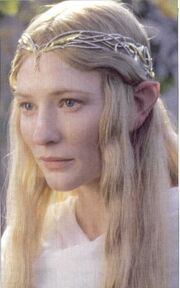 Altariel
(
sind
.
Galadriel
) i eldië alta nossëon
Vanyar
ar
Noldor
ar i heri
Lóriendëo
.
Altariel nóna Valinóressë né. Hína anvinya Arafinwëo né.
Altariel né i tulcamë walmë pelëo ar Uswëo Noldoron. Quenta Silmarillion quetë ya Altariel "ní eressë ye tarnë hallavë lúmissen". Nán né oa Fëanárollo ar lá mahtanë Nossenahtiessë Alqualondëo.
Apa tenerya Valariandenna marnë as Findaráto Nargothrondessë, nán ranyanë rimbavë Elwenna ar Melyannanna. Lestanóressë anomentië Telepornó, yenna ambë telwavë averië.
Ad blocker interference detected!
Wikia is a free-to-use site that makes money from advertising. We have a modified experience for viewers using ad blockers

Wikia is not accessible if you've made further modifications. Remove the custom ad blocker rule(s) and the page will load as expected.