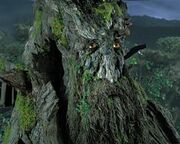 Aldamavori (sind. Onodrim) i nossë nyarvëa né. Hroaltyar ve aldar nér, haura ar halla. Máreltya Endórë né. Aldamavori ontaina ló Eru Ilúvatar nér, sé i indómë Yavanno. Neldëa Randassë, Aldamavori Endórëo hirina nér minya Tauressë Fangornëo, mal linaldamavori quernë "aldavëa".
Ad blocker interference detected!
Wikia is a free-to-use site that makes money from advertising. We have a modified experience for viewers using ad blockers

Wikia is not accessible if you've made further modifications. Remove the custom ad blocker rule(s) and the page will load as expected.